Man Convicted in West Sacramento Beating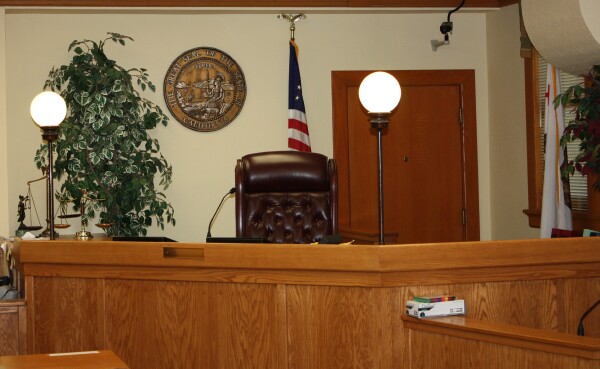 A Yolo County jury found a Sacramento man guilty in the 2009 beating of a West Sacramento man.  On Wednesday, the jury reached a verdict, convicting Michael Romero of attempted murder along with gang enhancements for a 2009 attack that occurred in West Sacramento.
According to the DA's press release issued on Thursday, "The forty-seven-year-old victim was attacked by Romero and another gang member in the early morning hours of January 21, 2009. A Good Samaritan who was driving by the attack testified that the victim was being savagely beaten on the ground by the two men. He courageously turned his truck around and interrupted the attack. The beating left the victim comatose in the street. As a result of the attack, the victim suffered permanent physical injuries and mental disabilities."
The press release states that "Another witness testified that minutes later she saw Romero remove one of the victim's teeth from his hand. Romero was arrested about a month later in Sacramento County. His accomplice, Antonio Delgado, was arrested by West Sacramento Police officers about ten days after the beating. A jury convicted Delgado of attempted murder and other charges earlier this year. West Sacramento Police Officer Michael Duggins testified at trial that these brutal attacks by gang members enhance their reputations and instill fear in the community."
District Attorney Jeff Reisig said, "It is brutal gang cases such as this that vividly demonstrate the terror that criminal street gangs bring to our communities. Thankfully, a brave citizen stopped to intervene before the victim was killed."
According to the DA's Office, "Sentencing is set for November 10th, 2010 before the Honorable Judge Stephen Mock. Romero faces a potential sentence of life in prison."
A Yolo County jury had previously convicted Mr. Romero of the other counts, but hung on the attempted murder charge.
Prosecution's Case
Supervising DA Garrett Hamilton represented the people in this case, against Yolo County Conflict Attorney Robert Spangler.
"You will learn about Nortenos and that respect is very, very important, and that fear equals respect.  They create fear by violence," DDA Hamilton said in his opening statement.
Mr. Hamilton described this incident as "an attempted killing." According to the prosecution, between 3 am and 3:30 am, in the early morning hours of  January 21st, 2009, Michael Romero along with Mason Antonio Delgado viciously beat Jacques Harpst, a middle-aged man of middle build, supposedly with the intention of beating him to death, and were stopped from completing the killing by a passerby who interevened and scared the attackers away. 
Mr. Hamilton claimed that the sole purpose of this crime and its viciousness was to "send a message" that the Norteno gang was present and was to be feared – to build a reputation of violence.  Mr. Hamilton also alleged that the beating elevated the status of each attacker in the eyes of the other – to build reputations between the two of them.
Jacques Harpst was brutally beaten, according to testimony from ER doctor John Richards, from the UC Davis Medical Center.  He testified that Mr Harpst had major swelling and bleeding all across his face and that he was totally unresponsive on arrival.  He also testified that numerous facial bones of Mr Harpst had been broken and that he was missing teeth. Contrary to the claim in the DA's press release that the victim was comatose on the street, Dr. Richards stated that the victim had been combative with the paramedics en route to the hospital.
Dr. Richards was most concerned with possible injury to Mr Harpst's brain, indicated by his unresponsiveness.  He began work to stabilize Mr Harpst.  Mr Harpst was unable to communicate for about one month after the incident.  He remained in the hospital for three months after the incident. 
Both Mr Harpst and his brother testified at the trial that Mr Harpst has suffered permanent damage and personality alteration.  He cannot smell or taste his food.  He is deaf in one ear now.  He has fainting spells and loses his balance spontaneously.  He used to be active but now sits idle and sleeps all day unless directed to do something.  He had a facility for working with computers, but now when he is put before a computer, he does not know what to do with it. 
David Eid was driving down the road after having dropped a friend off nearby when he saw what looked like a group of people "horsing around" on the roadside.  As he passed them and looked again through his rear view mirror he saw that one of them was on the ground and not moving at all, while the others were beating him severely. 
Mr. Eid made the first of his U-turns and came back past the scene on the opposite side fo the road.  The attackers saw him  approaching and they moved away momentarily, only to come back to the victim as Mr. Eid drove past them in order to make a second U-turn. 
Mr. Eid made his second U-turn, which now put him on the same side of the road as the attack, and he approached the attackers and revved his engine.  They fled and he was able to attend to the victim and call for help.  Mr. Eid said that the victim "looked like he was on the bad end of that one," and that "he wasn't defending himself at all." 
An interesting point is that Mr. Eid was able to remember some of the clothing of the attackers.  He said one of them wore a light-colored sports-style jacket and that the other was wearing dark colored clothing.  He didn't see any red colored clothing on either of them.  In fact, he testified that one of them was actually wearing a navy blue hat.  He was not able to see the faces of the attackers.
Officer Fredericko, who had happened to have contacted the Mr. Delgado and Mr. Romero at around midnight on the same night (i.e. about 3 hours prior to the incident) recalled that Mr Delgado wore a white jacket and that Mr. Romero gave an alias.
Key Witnesses
The two key witnesses in this case were Erica Raya and Vanessa Ramos.  It was Raya's apartment from which Delgado and Romero allegedly left and returned to after the beating, though they'd gone out to get drinks before that also.  In his opening statement, the prosecutor stated that at the time of the incident and the police reports, Raya and Ramos were "very conflicted young women."  He stated that "They have both struggled with their obligations in this case."
Erica Raya was 20 years old.  She was friends with Delgado's girlfriend, Vanessa Ramos.  Around 10 p.m. that night, Delgado and Romero came to her apartment, since Vanessa was already there.  She said Delgado and Romero stayed for three or four hours and then went out and came back with two gallons of Bacardi.  She stated that they came back for the final time about 20 minutes before they heard the ambulances. 
At one point, she testified that prior to the incident, she had not wanted them to go outside the apartment and had said to them "you guys are going to get me in trouble."
The prosecution jumped on this and asked "Did you think when either of them left that they were going out to cause trouble on the streets?"  Ms. Raya replied that she thought if either of them went out that he might smoke, and so she would get in trouble with the manager. 
She had given statements to Detective Hensley, and she stated in court that some were incorrect because she was hungover.  Mr. Spangler pointed out that she had gotten her information about the incident about the robbery and the cigarettes from Ramos, and so it was hearsay.
Vanessa Ramos was really the key witness in this case, in that she was the only one to tie Mr. Romero to the crime scene.  Her testimony casts serious doubt about her account.
On the stand, she was barely comprehensible, rambling and confused. It was difficult to glean anything from her obfuscating and confusing demeanor, she never answered questions straight, she broke into confusing tangents with her answers,and failed to grasp even basic logical structures.
Her actual testimony conflicted frequently with her prior statements, earlier testimony, and often with statements within the same sentence. Her recollection of events is confused, as sometimes she claimed to have been blurry, drunk and under the influence of Vicodin, while at other times she seemed to have clear and lucid memory of details.
The critical testimony was that when they returned after drinking a considerable amount of beer and liquor, they went together to find a cigarette, over the protests of Ms. Reyes and Ms. Ramos.
Later they returned, and Mr. Romero had a significantly-injured hand with a tooth stuck in it. Ms. Ramos' testimony was that Michael put the tooth in his pocket. Her testimony conflicted with itself multiple times per sentence, but she suggested that one or both of the defendants may or may not have told her that they had hit a guy who came out of a bar, because he acted disrespectfully when they asked for a cigarette. When asked to clarify herself, she broke into odd irrelevant rants about not wanting Mr. Delgado to have gone out and about being worried that Mr. Romero would get Mr. Delgado into trouble.
One key point that was derived at during the cross-examination was her desire to protect Mr. Delgado.
Gang Evidence
The evidence of gang involvement was almost all in the form of photographs found on a digital camera at the home of Mr. Delgado during the investigation of the incident.  We described their use in a previous article which highlighted Gang Expert Michael Duggins' testimony.  It is noteworthy that, despite the fact that the DA's Office claimed this was a gang attack, neither man was described as wearing red clothing which is synonymous with the Norteno gang.
DA Investigator Bruce Naliboff testified that he had transported the defendant from the jail to West Sacramento booking and for a blood draw, and had spoken to him en route about the defendant's tattoos, that of the area code on his arms and of "RNP," which apparently  stood for "Red Nose Pits." 
Investigator Naliboff stated that he'd received numerous letters that had been intercepted by the jail and were supposedly to and from the defendant while he was being housed there..  He stated that all mail to and from defendants is opened – that legal mail is opened but not read.
Mr. Spangler on cross-exam pointed out that mail that is written out of the jail is not tracked from the writer's hand to the drop box, thus anyone could write the mail and put any name on it.  He argued that there's no proof that the defendant was the author of any of it. 
There is no system to determine who wrote the mail or even which section (pod) in the jail it came from.  Mr. Spangler, at the end of the examination of the mail, stated his objection with "I don't believe there is sufficient evidence to authenticate the document."  He was overruled and the documents were admitted.
The letters were examined and Naliboff was asked about them.  The letters were written in thick slang and were unspecific in most parts, just expressions of general emotions.  In various places the author asked for specific things to be sent such as "draw me a red nose pit" and "a right hand throwing up a RNP," a reference to a hand sign that represents the letters RNP. 
The author stated that such an item "reminds me that I'm not alone and not fighting for nothing." The author requested that the recipient delete everything from the author's Myspace page.  Mr. Spangler objected to the addition of other letters on the grounds of hearsay – i.e. that they were not written by Michael Romero.  Judge Mock replied that "I would sustain the objection that it contains hearsay, but I'll allow it for non-hearsay purposes."  Mr. Spangler further objected that "its prejudicial aspect outweighs its probative value."  Judge Mock, however, overruled him.
On cross-examination, Mr. Spangler asked Mr Naliboff to stand and read parts of the letter that had not been highlighted and had been passed over by the prosecution.  In those parts, the author spoke about the importance of education for the Red Nose Pitts.  At one point the author pointedly stated that "life is not about gangs or violence but about taking care of each other… we will see better days." 
Mr. Spangler implied that the the prosecution was cherry-picking from the letter, thus losing context, and that they did not see fit to highlight and point out portions that showed more context and nuance.
We have already given the full account of Officer Duggins' testimony[1] , however, there are two key points.
First, Officer Duggins had no direct knowledge of the Red Nose Pits gang of which Mr. Delgado was a member.  And second, Officer Duggins made key factual errors.
Officer Duggins acknowledged in the voir dire (which in this case was a preliminary examination of an expert witness to determine his qualifications and suitability to serve as an expert) that he had limited experience with the Red Nose Pits.  Prior to the beating, he acknowledged he had never dicussed with any Red Nose Pits gang member, the purpose of the gang or  what it meant to be in the gang.  He knew that some, including co-defendent Mason Delgado, had moved from the Citrus Heights/ North Highlands area to West Sacramento.  But he never really spoken to them about their aims or purposes.
After Officer Duggins mentioned that he had never spoken to the Red Nose Pits about their core principles, defense attorney Spangler objected to his being an expert on the Red Nose Pits in particular.
Judge Mock, however, responded, "I would find that he is an expert in the area of criminal street gangs and is able to give opinion testimony on the Norteno criminal street gang in general, and the Red Nose Pits in particular."
A good portion of the basis for establishment in the gang has to do with a number of photos that were obtained from a camera and thumb drive from Mr. Delgado's residence following the beating incident.
Officer Duggins argued that the photos show a progression, where Mr. Delgado is almost acting as an ambassador from the Red Nose Pits to the West Sacramento Nortenos, upon his move from Citrus Heights to West Sacramento.
At first, Mr. Delgado is seen with his Red Nose Pits associates from Citrus Heights, but gradually more and more with gang members from West Sacramento.  The most recent photos show him exclusively with West Sacramento alleged gang members.  The officer argued this shows Delgado's allegiance to West Sacramento, and belies the fact that he cannot just come into the community without forming some sort of alliance with them.
Officer Duggins stated that, in his opinion, "Mr Delgado on that day was an active participant of the Norteno criminal street gang."
He also stated that he had never met defendant Michael Romero prior to this incident.  However, based primarily on photos, Mr. Romero is an active gang member, in his opinion.  In particular, he noted the booking photos from Christmas Eve, 2008, where Mr. Romero had spray painted on his jeans "XIV 4 life" in red spray paint, and also showed dots on his hand indicating 1 and 4.
Case Analysis
The defense presented no witnesses or evidence in this case.  Nor did they make an opening statement.
Garrett Hamilton, the prosecutor in this case, argued, "This was a beating death.  This was a murder interrupted."  "When you deliver a battering ram to the head of Mr Harpst… you're making a big statement to the Norteno community – it's not just a cigarette robbery."
He further argued that while no one ever heard any statements about intentions to kill the victim, the injuries were directed not at arms and legs but at a vital part of the body – the head and face.
Moreover, he argued that even if it was not premeditated prior to being interrupted, the resumption of the act argues premeditation and the intention to kill.
That said, this was not an open and shut case, and the defense perhaps did not put on near enough evidence to counter the rambling statements of Ms. Ramos.
There are several points that need to be made. First, Ms. Ramos was the only witness in this case who was able to place Mr. Romero at the scene, and even then it was tangentially done.
Mr. Spangler, in his closing, would argue that it is not even certain that Mr. Romero came back to the apartment that night, let alone that he was seen with a tooth in his hand.
Ms. Ramos claimed to have seen the tooth, but there was no scar where she said it was – between the knuckles of the middle and ring finger on the right hand.  Mr. Romero, at the trial, did have a scar on his other hand, but in a portion that would not likely make contact in a punch, and certainly would not produce enough force to lodge a tooth.
Mr. Hamilton, on his rebuttal closing, argued that Ms. Ramos could not have known that the victim was missing teeth if she had not seen the tooth.  He also argued that if there were someone that could have put Mr. Romero in a different location that night, Mr. Spangler would have presented it in trial.
Of course, both of these points shift the burden, and Mr. Spangler is not required to prove negatives, which are difficult to prove any way.  The prosecution is required to prove its case beyond a reasonable doubt, and this hinges on a single witness, who has a vested interest in telling her story, and who utterly lacked credibility. Her testimony not only contradicted itself, but was also contradicted by physical evidence.
Ms. Ramos' confused testimony, along with the lack of any corroboration, likely led to the previous hung jury, but for whatever reason this time, the jury came back with a guilty verdict.
The gang enhancement is also problematic.  According to Penal Code 186.22(B)(1), in order to enhance for criminal street activity, one must be committing the act in furtherance of a gang.  Even if the predicate act occurred, it seems more likely that the two guys got drunk, were looking for cigarettes, and then beat the guy up.  They were not even wearing gang colors.
The letter was selectively used to tie the defendant to other gang members outside of prison.
Mr. Romero faces potential life in prison. Mr. Delgado previously was sentenced to 28 years 4 months in prison.
—David M. Greenwald reporting
Source URL: Read More
The public content above was dynamically discovered – by graded relevancy to this site's keyword domain name. Such discovery was by systematic attempts to filter for "Creative Commons" re-use licensing and/or by Press Release distributions. "Source URL" states the content's owner and/or publisher. When possible, this site references the content above to generate its value-add, the dynamic sentimental analysis below, which allows us to research global sentiments across a multitude of topics related to this site's specific keyword domain name. Additionally, when possible, this site references the content above to provide on-demand (multilingual) translations and/or to power its "Read Article to Me" feature, which reads the content aloud to visitors. Where applicable, this site also auto-generates a "References" section, which appends the content above by listing all mentioned links. Views expressed in the content above are solely those of the author(s). We do not endorse, offer to sell, promote, recommend, or, otherwise, make any statement about the content above. We reference the content above for your "reading" entertainment purposes only. Review "DMCA & Terms", at the bottom of this site, for terms of your access and use as well as for applicable DMCA take-down request.
Acquire this Domain
You can acquire this site's domain name! We have nurtured its online marketing value by systematically curating this site by the domain's relevant keywords. Explore our content network – you can advertise on each or rent vs. buy the domain. Buy@TLDtraders.com | Skype: TLDtraders | +1 (475) BUY-NAME (289 – 6263). Thousands search by this site's exact keyword domain name! Most are sent here because search engines often love the keyword. This domain can be your 24/7 lead generator! If you own it, you could capture a large amount of online traffic for your niche. Stop wasting money on ads. Instead, buy this domain to gain a long-term marketing asset. If you can't afford to buy then you can rent the domain.
About Us
We are Internet Investors, Developers, and Franchisers – operating a content network of several thousand sites while federating 100+ eCommerce and SaaS startups. With our proprietary "inverted incubation" model, we leverage a portfolio of $100M in valued domains to impact online trends, traffic, and transactions. We use robotic process automation, machine learning, and other proprietary approaches to power our content network. Contact us to learn how we can help you with your online marketing and/or site maintenance.